NCO at Home Live
Even in times of Coro­na and a closed park­our hall, it is impor­tant for us to move chil­dren and young peo­ple. That's why we cur­rent­ly offer live train­ing three days a week for them to join in.
Every Fri­day at 16:30 there is a train­ing espe­cial­ly for kids (from 9 years). This is offered alter­nate­ly by our park­our and trick­ing instructors.
For old­er kids, there is a work­out for teens (ages 14 and up) every Wednes­day at 6:30pm. This work­out is usu­al­ly led by our expe­ri­enced cal­is­then­ics instruc­tor Chris.
In addi­tion, Caro is now offer­ing a Mobil­i­ty work­out. Every Fri­day at 6:30 p.m. she shows us exer­cis­es based on yoga, with which we can improve our mobil­i­ty and strength. The offer is aimed at chil­dren and young peo­ple from 12 years.
Reg­is­tra­tion is not nec­es­sary for any of the offers. How­ev­er, it is advis­able to briefly con­tact nco-club@stja.de in case of serv­er changes or quar­an­tine-relat­ed out­ages. Oth­er­wise, you can par­tic­i­pate with one click via the fol­low­ing link:
https://fairmeeting.net/NCOAtHome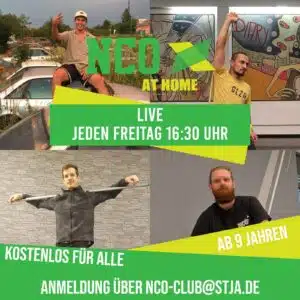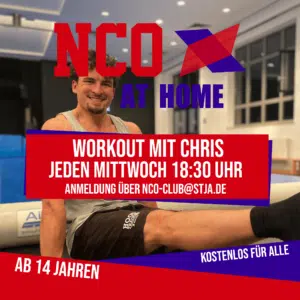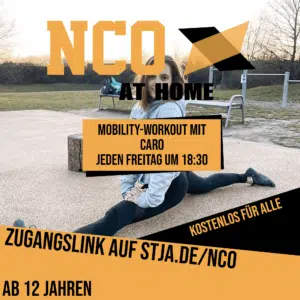 Target group:
---
This event is gratis
NCO-Club, Stadtju­gen­dauss­chuss e.V. (stja)
NCO-Club, Stadtju­gen­dauss­chuss e.V. (stja)
Delaware­straße 21, 7614 Karl­sruhe
Organiser